Description
The aliens have received word that the Echo- 1 carrier ship that the aliens destroyed was carrying a very powerful weapon, called the "Frozen Death". Be warned! Some say this is in the top 5 hardest levels in Raze 2. The transport bots were destroyed, and new security bots were put in place, with 200 health, probably set to Hard. The aliens and you (3 vs 3) have to play a grueling round of Domination to win the "Frozen Death".
Scores, game set, etc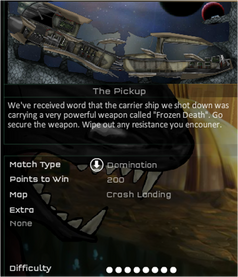 Quotes
(Richochet love plays in the background)
Tips and warnings
The new secruity bots have 200% health
The aliens can't even aim fast enough before they're killed
Make sure to turn on your static field in the middle of a transport bot trying to steal your flag, so the transport bot will shoot itself and you will defend it at the same time.
The security bot's weapons:
Sec. Bot Weapons

Starter

Sidearm

Close range

Automatics

Long range

Heavy

Explosive

Ability

Defensive equipment

Utility
Community content is available under
CC-BY-SA
unless otherwise noted.