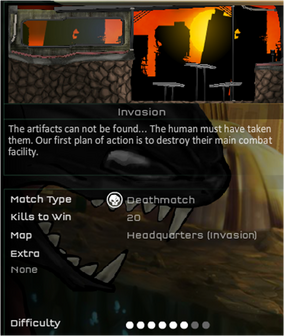 Description
[
]
You are the Alien Commander invading the Raze Task Force's base in Headquarters. This is the alien alternative to Breaking In from the Human Campaign. The Raze soldier will be a bit "sleepy", but he's still a good fighter. He has a resupply backpack, unlike the later levels where he carries a static field around.
Statistics
[
]
Human (J.Rockit) - Medium
Raze soldier - Hard~
Alien (ally) - Easy~
Quotes
[
]

Commander
Oh no!

Alien
What is it commander?

Commander
It's the one they call... 'Raze'

Commander
In our first invasion attempt,
we fought an elite group.

Commander
We killed them all off except
this one.

Commander
This man single-handedly
defeated us...

Alien
Not this time. The artifacts will
be ours once again!

The "Commander" in quotes is you.